DIEP Flap demonstration in Spain
Live Surgery San Sebastian November 2016
Professor Ramakrishnan demonstrated DIEP Flap reconstruction to over 50 plastic surgeons in San Sebastian.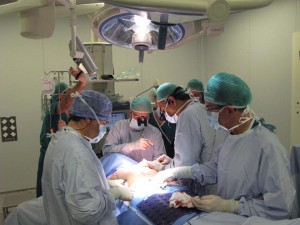 21/11/16
---
Butterfly Ball raises over £13000
Butterfly Ball 22nd October 2016.
A black tie ball was held on 22nd October at the elegant Stockbrook Manor Golf club in Billericay, Essex. Along with dinner, dancing and live music there was an opportunity to bid for some fantastic prizes at our charity auction and a very special guest appearance by Suggs from Madness. Dave Monk from BBC Essex was our master of ceremonies.
The BRA charity was founded twelve years ago. Since then our charity has gone from strength to strength. We have supported over 4000 patients who have visited the Breast Reconstruction Awareness support evenings and we have raised funds towards specialist equipment for the wards, high dependency unit, operating theatres, equipment for use in the clinics, nipple tattooing and provision of garments for patients undergoing breast reconstruction.
The charity has been successful due to the tireless work of our nursing staff and the patients in providing a wonderful resource to support various aspects of breast reconstruction.
The event raised over £13,000 and was a huge success.
21/11/16
---

Chelmsford mother's ordeal: 'I wanted to reveal what having a mastectomy looks like'
AFTER learning her genetics gave her an 85 per cent increased risk of developing cancer, mother-of-three Charlotte Pittuck didn't hesitate in opting to have surgery to remove both her breasts.
25/03/14
Read More
---

UK doctor offers advanced breast cancer care
Chennai is ready to import state-of-the-art breast reconstruction surgical techniques, thanks to the efforts of a UK-based plastic and cosmetic surgeon Venkat V. Ramakrishnan.
04/02/14
Read More
---

Rise in enquiries at plastic surgeon after Jolie mastectomy
A Brentwood plastic surgeon has urged caution following the news that Angelina Jolie had a precautionary double mastectomy.
20/05/13
Read More
---